Episode Overview:
In this episode of Value-Based Care Insights, Daniel J. Marino and special guest John Marren discuss value-based care strategies in academic medical centers (AMC). The conversation explores the inherent challenges that exist with academic medical centers as they think about shifting to value-based care, identifying success drivers and how to create a burning platform for change within the AMC structure.
John Marren is the owner of Hogan Marren Babbo & Rose, Ltd. and a healthcare lawyer. John contributes 30 years of experience to this topic, sharing some of the approaches academic medical centers must consider as they pivot into value-based care.
Co-hosts:


Daniel J. Marino, Managing Partner, Lumina Health Partners


Shaillee Chopra, Principal, Lumina Health Partners


Guest:

John Marren, Healthcare Lawyer, Owner of Hogan Marren Babbo & Rose, Ltd
Episode Discussion Areas:
1. What problems have held back academic medical centers from getting involved in value-based care initiatives?
A number of stakeholders (deans, department heads, faculty, administrators) are not aligned with the strategy.
Overcoming a culture of "if it's not broken, then don't fix it."
Physicians have a false sense of financial stability that limits their interest in change.
2. What are some of the challenges you are seeing as AMCs start to shift into value-based care?
Overcoming a strained relationship between AMC-based and community-based physicians.
AMCs don't realize the easiest solution may not be the most financially responsible one.
Most AMCs are specialty-focused but are limited in their primary care base and need to develop relationships with the (primary care) community.
3. How have AMCs connected with primary care providers to protect the referral base?
By creating relationships between AMCs and community physicians that provide physicians incentives to participate in quality programs.
By aligning leadership of different entities around a clinically integrated vision that allows more shared governance and working together to solve essential community-based problems.
By establishing a clinically integrated program where everyone uses the same set of metrics and reaches agreement with the quality of the data collected.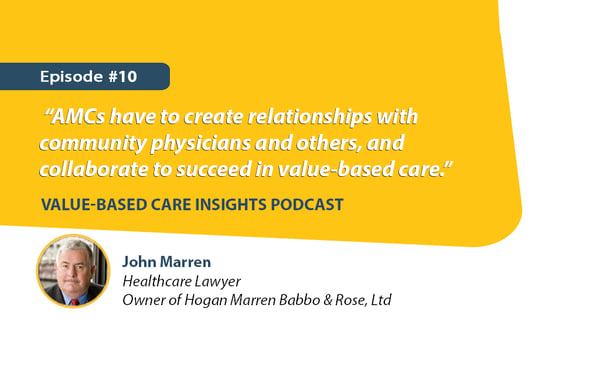 8 Key Takeaways to Value-Based Care Strategies in AMCs
1. The leadership of academic medical centers involves deans, department heads, faculty, medical group administrators and others.
Often, there are numerous agendas to align.
2. There is a culture of complacency driven by physicians comfortable with their financial and professional future.
The reality is many academic medical centers are deficient in their cost structure and do not have sufficient data to demonstrate quality and efficiency.
3. AMCs have higher costs because they take care of more challenging cases.
Often, community providers send more challenging cases to AMCs. There is limited data that really differentiates the quality of care or outcomes between AMCs and community physicians. Therefore, AMCs are being compared to the community-based providers, when in fact, this is imprecise as their cost structures are higher.
4. There is a cultural gap between physicians at AMCs and community-based physicians.
AMCs must create relationships with community physicians and others to avoid that class problem.
5. AMCs that focus on high-quality specialty services must define their value in the market.
AMCs specializing in high-risk cardiology care, for example, need to align with community providers to care for lower-risk patients in order to best manage costs and services within a set population.
6. It makes sense to build the vision and include all stakeholders up front.
The difficult part is garnering enough interest to convene a group where you can address questions – including fears about finances, control of care, etc. To succeed, it is key for these individuals to work together and gain consensus.
7. Building relationships involves bridging the cultural/class divide between AMC and community-based physicians.
AMC physicians are comfortable and see little incentive for change, while community-based physicians do not view AMC physicians necessarily as allies.
8. AMC leadership needs to be educated about how they can benefit from a value-based care model, both clinically and financially.
AMCs need to have a pragmatic approach and create a structure of collaboration.
About Value-Based Care Insights Podcast
Value-Based Care Insights is a podcast that explores how to optimize the performance of programs to meet the demands of an increasing value-based care payment environment. Hosted by Dan Marino and Shaillee Chopra, the VBCI podcast highlights recognized experts in the field and within Lumina Health Partners.