Episode Overview:
In today's climate, academic medical centers (AMCs) struggle to understand where they fit in the value-based care arena. Leaders from AMCs across the country are challenged with finding the value proposition for their specialty services. As a continuation of the conversation in Episode 10, Daniel J. Marino and Shaillee Chopra introduce Brent Estes, senior vice president of business development for Advocate Aurora Health. Brent dives into the challenges that AMCs face when moving to a value-based care model, the different type of value-based care models that can help them advance, how to find the right structure of governance, and how healthcare leaders can manage the shift from the top down.
Co-hosts:


Daniel J. Marino, Managing Partner, Lumina Health Partners


Shaillee Chopra, Principal, Lumina Health Partners


Guest:
Brent Estes, Senior Vice President, Business Development, Advocate Aurora Health
Episode Discussion Areas:
1. Challenges of AMCs to move forward into VBC
What VBC structure provides value to AMCs?
Aligning faculty with non-faculty employed providers and the community
Using VBC to reduce cost
2. VBC models for AMCs to consider
Clinically integrating service lines
Advancing service lines into Centers of Excellence (COE)
Specialty-based accountable care organizations (ACOs)
3. Alignment of Governance
What is the right structure?
Physician leadership
4. Managing culture and change
Shifting the AMC culture
Creating the value proposition for faculty and the AMC
Identifying a leader or champion to carry the VBC torch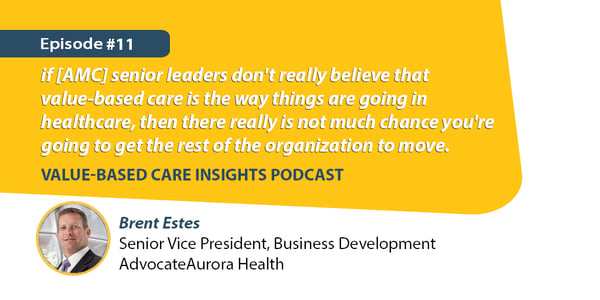 10 Key Takeaways: How AMCs Can Success in Value-Based Care
1. There is not a "one-size fits all" solution for AMCs.
The models that organizations use depend on local market alignment, existing internal governance structures and position of the university relative to clinical operations of the organization.
2. First, get leaders to agree on how value-based care fits into the market.
From there, engage chairs and other clinical leaders to help put together the right structure for the organization. Then, ask payers what they want and talk to them about how the AMC is providing value today, as well as what improvements it could make down the road.
3. Specialty areas that AMCs are known for are great places to start.
Not only do they have a great product to start with, but those areas are also typically the clinical areas that they're going to see growth in down the road. They represent long-term opportunity.
4. A clinically integrated network makes sense for AMCs in crowded markets.
Ideally, the market would have community-based providers deeply involved in value-based care, with both governmental and commercial payers. But if one AMC dominates its market and has an aligned medical staff, maybe a CIN is not the best approach.
5. Direct-to-employer contracting may be tough in a lot of markets.
AMCs can think of themselves as population managers for patients with cancer or heart conditions that go beyond their own enterprise. AMCs could be providing support services to payers for patients that are consuming services with other healthcare systems.
6. Most AMCs know that someone will bring value-based care to their market.
There is a benefit to being an early adopter in some of these initiatives. AMC leaders must figure out what the right structure is for their situation.
7. Relationships with community providers are untapped opportunities for AMCs.
By emphasizing their strengths, AMCs can highlight those concepts and infrastructure assets, applying them to other parts of the organization to make themselves more attractive to community providers.
8. AMCs should consider existing CMS programs as avenues into value-based care.
These programs carry little risk but a lot of opportunity to improve internal processes, reducing operating costs, improving care and driving revenue.
9. AMCs have trouble aligning around things that commercial payers typically focus on.
Treatment of conditions such as diabetes and hypertension are not the first things specialists think of to drive value. But payers are willing to let those patients be treated by AMCs that already demonstrate a commitment to quality and value-based care.
10. There's an opportunity for AMCs to reshape the definition of quality.
AMCs can benefit from greater stability with their peer relationships because they'll be more codependent and develop clinical programs and establish what people should be focused on.
Resource mentioned:

Episode 10 with John Marren: 3 Ways AMCs Can Integrate Value-Based Care Strategies

About Value-Based Care Insights Podcast
Value-Based Care Insights is a podcast that explores how to optimize the performance of programs to meet the demands of an increasing value-based care payment environment. Hosted by Dan Marino and Shaillee Chopra, the VBCI podcast highlights recognized experts in the field and within Lumina Health Partners.