Episode Overview:
In 2020, the COVID-19 pandemic led to sweeping changes in who receives care, how they access it, and how healthcare organizations come together—with doctors, hospitals, insurance companies, and community resources—to meet the complex need for accelerated care. In this episode, hosts Daniel J. Marino and Shaillee Juneja reflect on how healthcare organizations pivoted to meet the accelerated demand created by the pandemic, dealt with provider burnout, and maintained financial solvency.
Co-hosts:


Daniel J. Marino, Managing Partner, Lumina Health Partners


Shaillee Juneja, Principal, Lumina Health Partners

Guests:


Michael Hill, MD, Infectious Disease Specialist, Chief Quality Officer, St. Tammany Parish Hospital


Kathy Najarian, MHA, Principal, Lumina Health Partners


Doug McKinley, Psy.D., MCC, Principal, Lumina Health Partners
Episode Discussion Areas:
1. 2020 brought new and unexpected trends that altered the original predictions we made in Episode 6, which featured Lucy Zielinski, a managing partner at Lumina.
Telemedicine adoption was accelerated by decades to meet the need for virtual and safe care.
Care teams expanded, with advanced practice providers taking on a much more active role on the front line in providing care (both in-person and virtual).
We ushered in a new era of healthcare preparedness, where healthcare organizations, providers, payors, and even consumers had to pivot on how care is accessed, provided, reimbursed, and sustained.
2. Dr. Michael Hill discusses the impact of COVID-19 on the community and the subsequent response.
As hospitals provide testing, treatments, and COVID education programs, hospitals had an opportunity to "build the bridge" and better align with employers.
Hospitals connected with the community and employers to support their mission of patient care, while creating a stronger sense of trust.
By connecting with the community, hospitals had an opportunity to instill a sense of confidence with patients.
Hospitals provided messaging and insights that offered suggestions on how to protect patients and the community.
3. Dr. Doug McKinley discussed the increased burden and a consequently higher rate of provider burnout throughout the year.
The pressures were immense on our healthcare providers before COVID, and it was intensified this year as they stepped above and beyond to meet the accelerated need the pandemic created.
Physicians must be reminded of their "why" and remember that they define the work they do — the work doesn't define them.
4. Kathy Najarian explored the struggle for healthcare organizations to maintain financial solvency and recover the lost revenue resulting from COVID.
The changing payer mix along with a reduction in elective surgery severely impacted the financial bottom line.
Hospitals had to pivot quickly to come up with innovative ways to squeeze out waste expenses, optimize revenue, and even get at the table to take another look at their value-based contracts with payers.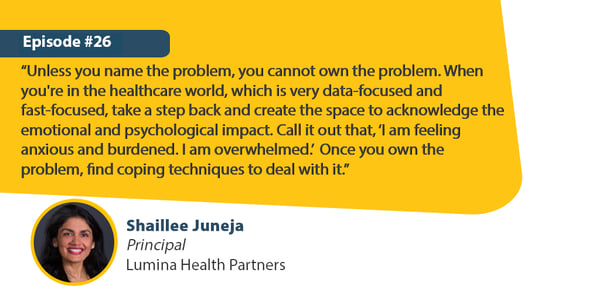 9 Key Takeaways: COVID-19 Trends That Shook the Healthcare Industry in 2020
The pandemic has caused disruptive changes to healthcare.
Provider organizations had to think about how they need to deliver care differently — from working with providers to understand how they need to financially structure themselves while simultaneously meeting patients' needs. COVID has created new structures, challenges, and opportunities for these organizations.
Several unexpected trends have emerged this year in healthcare.
Telemedicine was accelerated to meet the need for virtual and safe care. Care teams expanded with advanced practice providers to take on a more active role on the front line in providing in-person and virtual care. The whole industry also pivoted on how to access care, how the care is provided and reimbursed, and how we thrive in evolving healthcare system. The industry had previously struggled with different aspects of care management, but telemedicine has emerged as a tool to better connect with patients and manage their care.
Community-based solutions can help manage and solve the COVID problem.
St. Tammany Parish Hospital looked at their COVID data and reached out to the community and their provider partners to create a team approach to solving the problem. Early on, they saw the vulnerability of nursing homes and assisted living facilities -- and began communicating daily with them to answer questions and offer access to experts. Hospitals must realize and consider the affect on these facilities during a pandemic and position themselves as a partner.
Collaboration with the community is important for managing COVID.
To successfully manage the pandemic, we must collaborate with nursing homes, employers, leaders, fire districts, and even schools. By doing so, particular needs can be identified and managed. We take the information that's available to us, step up, and instill a sense of confidence.
With these added challenges, physicians are feeling increased pressure.
Physician's offices were challenged not only by taking care of patients with their current conditions, but also managing the COVID surge. Patients are counting on clean, safe offices and physicians who will be able to take care of them. Burnout was a factor with physicians even before COVID, and the pandemic has made managing that burnout more challenging.
Organizations must navigate increased emotional and psychological stress.
Early in the pandemic, much of the provider community was taken for granted, and we didn't realize the psychological impact the pandemic would have. Healthcare leaders must have strategies in place to cope with these challenges, acknowledge the impact, and introduce strategies for coping with the psychological burnout. Leaders should ensure they're giving physicians and advanced practice providers the right information so they can make (and be comfortable about) decisions on the things they can control.
Organizations are struggling to maintain financial solvency.
The pandemic completely changed the payer mix. The decrease in elective surgery and volume has severely impacted the financial bottom line for hospitals, and they had to quickly come up with innovative ways to squeeze out cost and optimize revenue. Providers should work with payers to optimize contracts to improve operating margins.
The economic pressure from the pandemic is significant.
Having elective surgeries and ambulatory visits canceled was devastating to hospitals, ambulatory surgery centers and physicians. Margins are plummeting and financial ratings are moving hospitals to the negative. And while payers may be in a position to help these providers, they may not readily offer to help.
How can hospital leaders negotiate with payers?
Leveraging existing relationships is more important than ever. Transparency is also important: Show the payers what has happened to your dollars and what your delta is, and then ask what the payers can do to help get those dollars back into the organization. CFOs should focus on the "ask" that will ensure the economic viability of the organization.
Resources mentioned
About Value-Based Care Insights Podcast
Value-Based Care Insights is a podcast that explores how to optimize the performance of programs to meet the demands of an increasing value-based care payment environment. Hosted by Daniel J. Marino and Shaillee Juneja, the VBCI podcast highlights recognized experts in the field and within Lumina Health Partners.