Episode Overview:
Lumina Health Partners Managing Partner Daniel J. Marino is joined by Lucy Zielinski, Lumina's managing partner, to discuss the top five trends impacting medical groups in the year ahead. As the leader of our medical group management services, revenue-cycle enhancement, and coding, Lucy tracks trends, perspectives, and shifts within the industry and interacts frequently with physicians and medical group leaders.
Daniel and Lucy discuss the insights she has gleaned from in-depth conversations with health system leaders, medical group leaders, and physicians as they experience new challenges and new trends impacting their financial, clinical and operational performance going into 2020.
Co-hosts:


Daniel J. Marino, Managing Partner, Lumina Health Partners


Lucy Zielinski, Managing Partner, Lumina Health Partners
Episode Discussion Areas:
1. Margin enhancement
Maximizing revenue related the value-based contracts now in place
Preparing for risk-based contracts in a pragmatic way
Managing costs, both the medical spend and expenses
2. Value-based contracting and preparing for risk
Continued advancement of VBC and positioning for risk
Maximizing opportunities with current payer contracts
3. Ambulatory services and revenue
Physician compensation models
Governance structure
Revenue cycle management
Coding enhancement
4. Analytics
Advancing data to meet transformational needs
Artificial intelligence
Digital innovation
5. Increasing access to health services
Primary care and urgent care services
Specialty care
Care across all settings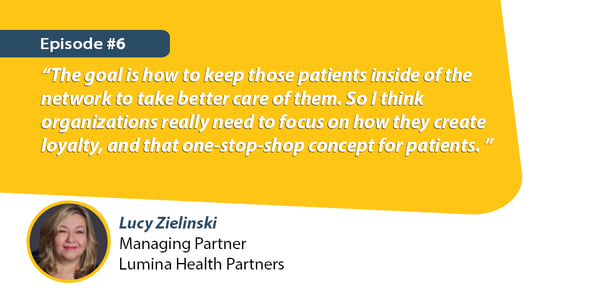 11 Key Takeaways: Value-Based Care Trends in 2020
1. Organizations must create patient loyalty within their provider networks.
By keeping patients inside their networks, providers across the continuum of care can treat patients holistically to improve their health.
2. Managing costs is a challenge for many medical groups.
The shift toward value-based care continues, and organizations slow to shift from the fee-for-service world are struggling. The challenge manifests as both greater internal expenses and higher medical spend on patients.
3. Organizations must adapt access to ambulatory services.
Today, patients are not willing to wait months to see specialists. Providing access quickly is critical to maintaining a positive customer experience.
4. Operational fragmentation in mergers increases strains on budgets.
If one healthcare system acquires 10 different medical groups, it likely inherits 10 different ways of operating a medical group. Standardizing procedures and operations is a challenge.
5. Leadership questions the value of additional technology.
Many organizations that have already invested millions in tech and electronic medical records balk at spending additional dollars on new technology and analytics. Optimizing current systems is key, then determining gaps in technology and analytics.
6. Margin enhancement is a high priority for many medical groups.
Groups seeking to manage costs, maximize their revenue through revenue-cycle improvements that result in things like fewer denials and increase in patient payments.
7. Inconsistent use of tech in the revenue cycle is a challenge.
Many face challenges surrounding how to use technology, including artificial intelligence and the use of botss. AI and bots definitely support about cleaner claims, fewer denials and appropriate payment.
8. New payment models require a new focus on coding.
"Close enough" in assigning diagnosis codes no longer works. Value-based care requires more precise diagnosis coding to ensure assignment of accurate level of risk of patients.
9. To be effective, physician on-boarding processes must engage physicians and group leadership.
Not only does engagement help establish physician-centric procedures, it also creates a culture of cooperation, buy-in and most importantly trust.
10. A patient-centric approach to access is an ongoing challenge for medical groups.
Retail clinics, virtual care and same-day appointments are just a few of the expectations of patients, especially younger adult patients; not only with primary care and specialty services, but also with urgent care services.
11. Many organizations, particularly medical groups, struggle with providing physicians the right data.
Key questions include how to give information to physicians in ways that motivate them to modify their care models to capture data that can enhance patient care.
About Value-Based Care Insights Podcast
Value-Based Care Insights is a podcast that explores how to optimize the performance of programs to meet the demands of an increasing value-based care payment environment. Hosted by Dan Marino and Shaillee Chopra, the VBCI podcast highlights recognized experts in the field and within Lumina Health Partners.