Updated: December 6, 2021
There are many mechanisms healthcare organizations can use to accelerate their financial recovery efforts post-COVID-19.
When examining these mechanisms, financial leaders' questions often boil down to two essential concerns: How effective is it? And how long will it take for us to see results?
The revenue cycle lands at the top of the heap when it comes to quick but highly effective ways to accelerate revenue. It also plays a critical role in improving the patient experience and health of populations while reducing the cost of care.
By improving revenue cycle efficiencies, healthcare financial leaders can gain a vital "quick win" in their financial recovery timeline.
I recently taught a 2-day HFMA seminar on Revenue Cycle Essentials and KPIs (key performance indicators). Here, I'll summarize the challenges revenue cycle leaders are experiencing today, as well as key factors for success.
Revenue Cycle Challenges
Understanding the impact of changing payment models and value-based care.
Shaping the ideal staffing structure, including roles and responsibilities of staff.
Selecting the right technology, including bots and artificial intelligence (AI), and leveraging technology to increase efficiency/productivity.
Establishing meaningful key performance indicators (KPIs) that improve performance.
Managing system conversions/stabilizations.
Aggregating data across multiple systems to support reporting and analytics.
Creating standard, "best practice" processes across all settings/providers/practices.
Improving coding accuracy and establishing responsibility.
Addressing reductions in reimbursement/revenue.
Managing (or avoiding) claim edits and denials efficiently.
Measuring Revenue Cycle Performance
Whatever specific challenges an organization may face, success requires continuous monitoring and measurement.
Medical groups should have a clear strategy and objectives, especially in the ever-changing, competitive healthcare space. Financial goals based on payer contracts and anticipated utilization and performance should be shared with revenue cycle leaders. These realistic financial goals can then be translated into measurable KPIs that define practice priorities, drive practice improvement activities and evaluate success.
Once the KPIs are established, they can be compared to historical performance and industry benchmarks. This allows the organization to measure and track against a standard measure and/or peers in the industry while helping quickly identify issues and proactively address them. It also provides insight into what others in the industry are doing.
How to Leverage Revenue Cycle KPIs
Identify weaknesses in the revenue cycle process. For example, the front-end registration staff may not be accurately updating insurance information, resulting in a high number of denials for the reason of "patient is not eligible on service date."
Set goals for staff based on the functions they are responsible for and can control. For example, the cash application staff should have a standard of posting payments within a certain number of days, such as 1-2 days within receipt of payment. If the KPI exceeds that target, management is alerted to review and resolve the lag.
Provide objective, measurable performance standards across the entire revenue cycle. It really takes a "village" — or just about every staff person — to affect and impact the revenue cycle (e.g., not only the business office employees, but also front office staff, providers, clinical staff, IT, contracting, etc.). When KPIs are published, people can collaborate to improve performance, helping ensure targets are met.
Drive decision-making. Use the KPIs to project future revenue and budgets, determine inefficiencies and the need for additional resources or systems, identify breakdowns in the cycle and remedy issues to mitigate future risk and expense.
Promote development of realistic targets for the organization's senior leaders to support strategic discussions, as well as inform operational staff of expectations.
Traditional KPIs are still relevant, but a new generation of KPIs must also be tracked, as indicated in the graphic below. In a fee-for-service environment, KPIs on revenue cycle, operations, cost/profitability, and production were typically monitored. In a value-based world, KPIs around cost, quality, patient access and experience are also important to track. It is key for organizations to understand the reimbursement mechanics of a payer contract and incorporate those KPIs into their dashboard.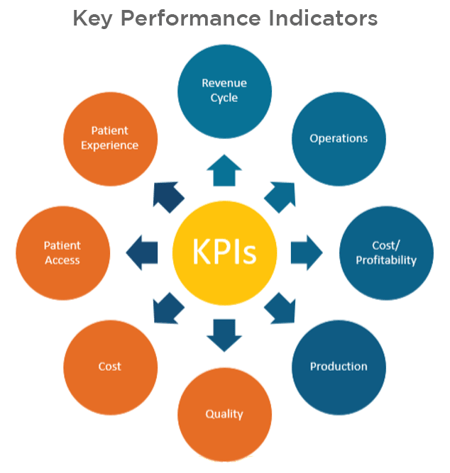 KPIs by Healthcare Stakeholder Groups
When revenue cycle (RC) leaders identify the KPIs to measure, a dashboard report can be created. Leaders must know their audience, as different stakeholder groups care about different KPIs.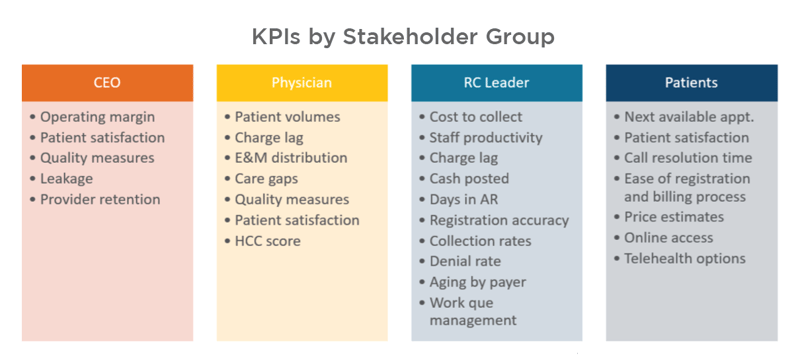 Organizations and staff must understand the KPIs, determine which ones are most important to them, and then understand how to improve or "move the needle" in a positive direction.
Successful Revenue Cycle Improvement Strategies
KPIs act as an alert system to provide insight that something is wrong. It is critical to shift the focus to improvement activities. Some key strategies to support improvement activities include:
Obtain support for revenue cycle at the highest level.
Garner appreciation from non-financial staff.
Find purpose through the patient.
Demand high performance.
Celebrate success.
Make innovation a priority.
It takes KPIs to monitor the performance of the revenue cycle, but it takes a village to keep the revenue cycle healthy. Rising healthcare costs necessitate a concerted effort by all provider organizations to determine how best to improve margins and patient care, and to put the right KPIs and analysis in place so they know that they are succeeding.