Episode Overview:
As organizations transition through this next iteration of the pandemic and think about how to position themselves for 2022, physician and executive leadership continues to be a top priority.
The next generation of executive leadership must think differently and have the ability to evolve with anticipated crises and changes in the industry. It is imperative to understand what will be expected of those leaders, the requirements they must satisfy, and how they should position themselves and their organizations for success.
In this episode of Value-Based Care Insights, Daniel J. Marino speaks to Dr. Cheri Olson of IPMA and Doug McKinley of the Lumina Leadership Institute to discuss the need for a collaborative leadership model.
This is the second episode in a two-part series supporting the collaborative IPMA and Lumina Leadership Institute CME Conference, taking place October 14, 2021.
Host:


Daniel J. Marino, Managing Partner, Lumina Health Partners

Guests:

Dr. Cheri Olson, Medical Director, Interstate Postgraduate Medical Association - IPMA


Doug McKinley, Managing Principal, Lumina Health Partners
Episode Discussion Areas:
1. The Virtual CME Conference: Building a Collaborative Healthcare Leadership Model is a joint effort between IPMA and the Lumina Leadership Institute to promote collaborative leadership as a next-generation approach to institutional success.
The CME conference will focus on fostering collaboration among physicians and executive leaders to create a sense of cooperation and coordination around the organizational strategy.
Speaking about the objectives of the conference are Dr. Cheri Olson and Doug McKinley.
– Dr. Cheri Olson is a family medicine physician, the medical director for St. Clare Health Mission, and medical director for IPMA.
– Doug McKinley is a clinical psychologist, a managing principal for Lumina Health Partners, and executive director of the Lumina Leadership Institute.
This conference is, in and of itself, a living example of how collaboration among organizations can create more opportunities for learning and advancement.
2. Why is "leading yourself" important to new physician leaders? How critical is it to their success?
Physicians are now being asked to lead in healthcare systems because they have decades of clinical expertise – which is required to support the new care delivery and payment models. But that doesn't automatically qualify them as leaders who can run teams and facilitate organizational change.
When Doug was running a clinic and he had 10 psychologists working for him, he hired a coach who said he needed to learn how to work on the business – not just in the business. It reminded Doug that running a business requires a different skillset and acumen than taking care of patients. Leaders can be player-coaches, but they need to know the difference between the two roles.
Leaders need this type of self-awareness. The more self-awareness a leader has, the more options they have.
3. How does self-leadership differ for under-represented groups? Women, people of color, etc. What barriers or challenges are unique for these leaders and how can organizations recognize and be equipped to help in their development?
Leadership requires trust. There must be a camaraderie so teams feel confident following their leaders.
This is also where self-awareness comes into play. When leaders are aware of the self-talk and imposter syndrome that sets them back, they can actively do the personal work to be more confident, open, and human. That can go a long way in any organization.
4. How can people learn to look inside of themselves to become a better leader?
People prefer organizational leaders with high EQ (emotional intelligence) over high IQ. Leaders have to evaluate their own skills that contribute to EQ, such as empathy, good communication skills, and the self-awareness already discussed.
The good news is much of that is teachable. Leaders can be mentored or coached to develop those skills when they actively seek feedback and learn from it.
If a leader wants to demonstrate their ability, what they say doesn't matter – their team pays attention to what they do.
One telling example of how this plays out is illustrated in a story Cheri relays in the podcast. She was coaching leaders during COVID and asked one of them to show her how he leads meetings – they were virtual at the time. She watched him kick off the meeting quite well, but as soon as his team started their updates, he was on his cell phone texting with his head down, while essential information was being communicated. Cheri tried to get his attention to no avail. And when she provided him feedback about his lack of attention, he blew it off.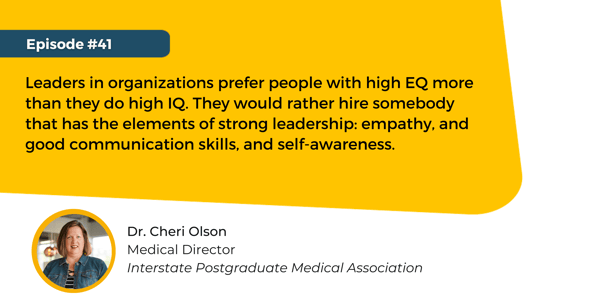 4 Key Takeaways: Building a Collaborative Leadership Model
Leaders need to be nimble and willing to consistently reinvent themselves.
The days of leading like you did 20 years ago are over. Today's leaders need to review and re-evaluate their leadership to make regular changes. That's how a leader can stay current and relevant among their peers and team members.
Feedback delivered early and often is the best gift a leader can get.
Powerful feedback early in their careers helped both Doug and Cheri make changes to their leadership styles that significantly changed how they lead. The upcoming CME conference offers a unique opportunity for emerging leaders to receive feedback and discover how they can adapt their leadership styles for success.
The best way to evaluate a leader is to see them in action.
Just as athletes prove themselves on the field, leaders prove themselves leading meetings, activating strategy, and handling conflict. The upcoming CME conference focuses on leading with results because results are the measure of a leader, and those results are the product of collaboration.
The path to leadership is not straight.
Leadership is often the culmination of a curvy career that is circuitous, sideways, backwards, and constantly evolving. Leaders must be in continuous assessment and must seek out constant feedback to develop their leadership skills.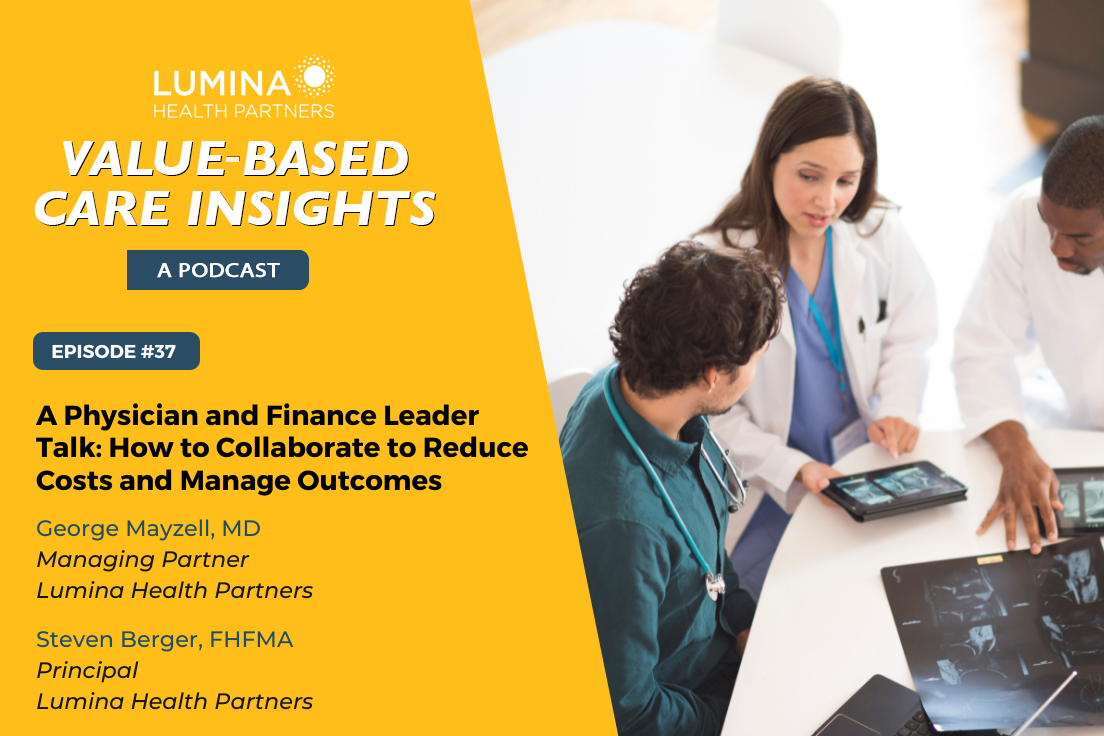 About Value-Based Care Insights Podcast
Value-Based Care Insights is a podcast that explores how to optimize the performance of programs to meet the demands of an increasing value-based care payment environment. Hosted by Daniel J. Marino and Shaillee Juneja, the VBCI podcast highlights recognized experts in the field and within Lumina Health Partners.