Episode Overview:
While pneumonia can be prevented, not every patient older than 65 or diagnosed with chronic diseases receives the pneumococcal vaccine (PV). Some practices aren't even aware of their current vaccination rates or what rates they should be targeting. In this episode of Value-Based Care Insights, Daniel J. Marino and Shaillee J. Chopra talk with Vince Keenan, the chief executive officer of Illinois Academy of Family Physicians, about how a quality improvement project that Lumina Health Partners assisted with. The project focused on increasing PV rates, which gives us insight on how to address other public health issues clinicians face.
Co-hosts:


Daniel J. Marino, Managing Partner, Lumina Health Partners


Shaillee Chopra, Principal, Lumina Health Partners


Guest:


Vince Keenan, CEO, Illinois Academy of Family Physicians
Episode Discussion Areas:
1. How to use what we know about pneumonia to better serve patients and the community.
Focus on increasing the number of patients who receive the vaccine, including those with chronic conditions such as diabetes, smokers, and those 65 years and older.
2. How offices can proactively manage vaccination rates.
Perform pre-visit planning and anticipate the patients' need for the PV prior to the visit.
This can translate into proactively delivering care for other types of health issues and concerns.
3. How to engage providers and make the quality measure a high priority on their clinical worklist.
The CDC has percentage rate guidelines for practices around the country for PVs, but the numbers vary widely.
There is not much that's new in terms of the science of or process for the vaccine, but providers should know what their current rates are and set goals for target rates.
Getting this quality measure on their dashboard can help motivate clinicians.
Engaging a champion at the practice can help drive this message home.
It's also about including this on the monthly meeting agenda and regularly reviewing what clinicians are doing to meet goals.
4. How clinicians can turn data into actionable insights.
Not every practice knows how to take data and use it in a meaningful way.
Identifying a new clinical workflow can help promote and support the capture of quality measures, like PV.
Sometimes, just getting a metric on a dashboard and making it a part of monthly meetings is enough to improve results.
5. Getting this quality measure on a practice's dashboard isn't always as quick or easy as it sounds.
There are more than 250 things practices can track on their dashboards, and for some clinics, PV isn't even on the top 25.
Educational videos for the entire clinical staff can be key to making clinicians more aware of this vaccine and moving it up on the dashboard.
The PV quality measure is on the quality measure list for MIPS and Medicare Shared Savings Programs.
6. There are different ways to increase the rate of quality measures.
Building respect and accountability for providers can help.
Putting together and applying best practices can also make clinics more confident.
Sharing procedures across clinics can improve progress.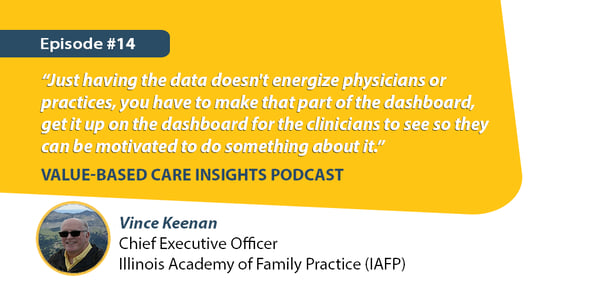 7 Key Takeaways: Getting the PV Quality Measure on the Physician Dashboard
Targeted initiatives are key to encouraging patients to receive their vaccines.
Pneumococcal outreach programs are an important way of encouraging those older than 65 and those with chronic diseases. Practices can also flag the medical records of that day's at-risk patients to speak with them about the vaccine.
Bringing communities together can help achieve the most impact while also maximizing limited resources.
Coordinating resources and capturing data can help identify opportunities for improvements as providers can prioritize services.

Getting a quality measure on the dashboard is not the only goal.
It's also about including this on the monthly meeting agenda and regularly reviewing what clinicians are doing to meet goals. And once that quality measure is on the dashboard, it keeps awareness top of mind.
But just getting PVs on the dashboard can improve results.
A group of five clinics in a Central Illinois farming community used continuity of care to raise pneumococcal vaccination rates. A federally qualified health center in Chicago raised rates overall, including those rates for diabetics and smokers.
This same approach should be used to raise awareness for other vaccinations and diseases.
With family physicians taking care of patients from beginning of life to end, they want to use as many strategies as possible to improve a patient's health. Anticipating patient needs; collecting and using data; and engaging physicians, staff, and patients can improve patient care.
The importance of data.
Data helps leaders understand what is currently happening with patients' needs and medical issues, and it also helps clinicians anticipate what could happen in our population with other public health issues.
How to use data to better manage capacity going forward.
Being proactive in triaging and understanding the traffic providers sending to testing centers or hospitals will help them better manage future capacity. Not only does the data generated supports workflows redesign, but it also helps improve ongoing service.
About Value-Based Care Insights Podcast
Value-Based Care Insights is a podcast that explores how to optimize the performance of programs to meet the demands of an increasing value-based care payment environment. Hosted by Dan Marino and Shaillee Chopra, the VBCI podcast highlights recognized experts in the field and within Lumina Health Partners.