Episode Overview:
As physicians prepare to re-emerge from the COVID-19 lockdown, they're facing the challenge of adapting their practice to new realities. Hosts Daniel J. Marino and Shaillee J. Chopra speak with Doug McKinley to discuss how physicians can change their mindset around the "old normal" and pivot to align with the new normal that includes new telehealth environments, new rulings, new financial realities, and new healthcare systems.
Co-hosts:


Daniel J. Marino, Managing Partner, Lumina Health Partners


Shaillee Chopra, Principal, Lumina Health Partners


Guest:


Dr. Doug McKinley, Psy.D, MCC
President and CEO, DLM Pathways
Episode Discussion Areas:
1. The problems or issues that physicians are facing.
What is my current reality, what am I feeling, and how are my emotions affecting my ability to serve patients?
What have I been doing as a practicing practitioner that's no longer relevant? Am I willing to give that up?
As a primary care physician or specialist, how is my future compensation impacted? How will it impact the services I provide (especially elective surgeries)?
2. Rebooting your brain – how physicians need to think differently in the post-COVID world.
How to realign with the new normal of COVID-19.
Value-based contracts force us to think differently than we have in the past.
What are the leadership skills we can practice (emotional agility and awareness) to come out of crisis?
3. Post-COVID Realities: What does the new normal look like?
Will the volume get back to where it was?
How do we incorporate digital technology to reach patients? Economically, can we afford to do it?
The care model is going to change. Physicians need to understand it to leverage it. This will redefine how they're practicing medicine post-COVID 19.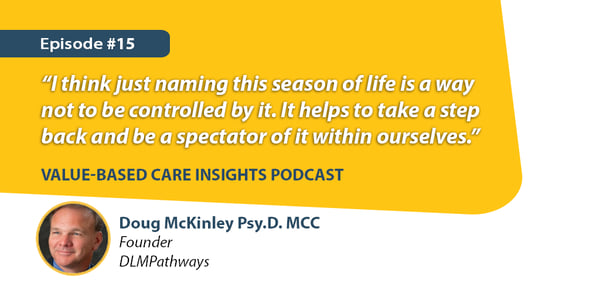 9 Key Takeaways:
How Physicians Can Embrace the "New Normal"
Physicians are challenged with how they must interact with patients.
Physicians are concerned about how they're going to take care of patients going forward. With increased feelings of insecurity and decreased patient volume, physicians must learn new ways to interact with patients regarding COVID-19 and other chronic diseases. These physicians must also pivot and lead others to the new normal in their practices.

Physicians will need to create a new normal "on the fly".
With no roadmap to follow, physicians must establish this new normal based on patient interactions, new technology and new workflows. And because this is disorienting providers, physicians must also consider ways to increase emotional resiliency.
With the halt in volumes (and elective procedures), some physicians are concerned about the loss of identity.
Some physicians are increasingly concerned about what their future is going to look like. Some are struggling with decreasing revenue and patient interaction. But by getting the information they need to make decisions about their practice, physicians will be able to identify the things they can control and move forward from there.

Simply giving this season of our lives a name can help us take back control, as the fear of the unknown can generate a lot of concern.
Whether it's a "new normal" or "the great pause button," this period is a unique opportunity to reset, reflect, and listen. It's also important to think about the phases of recovery, putting it into a manageable context and helping reinvent how this is going to work.
Why is it important to help physicians remember who they are?
Remembering who they are and why they got into medicine in the first place gives them a better understanding of what they need to do going forward.
What steps can physicians take to "reboot" their brains to manage the changes that are happening?
It's important for physicians to stay connected and remember that social distancing isn't social isolation. Creating a new structure can help the brain understand that something different is happening. It also helps to reframe you're their understanding of what they can control, what they should be doing, and how they can pivot.
Could there be benefits to the trend toward telehealth and telemedicine?
This trend is creating a sense of connectedness between physicians and patients. And that has also helped create a sense of stability for providers. Providers are reading nonverbals even more intently than they would in person, giving them additional information about the patient and their condition.
Managing the current environment is about courage.
Physicians need to have the courage to be honest with themselves and each other and give up the illusion of control. It's about the courage to continue to move forward and work to understand what this new landscape is all about. This will help drive innovation and success.

The post-COVID-19 environment is also an opportunity to go back to the basics.
Providers should review their mission statements and consider redefining them. Getting back to the basics may also require providers to ask for help, even if they're a leader in their field. These pivots will help them get through this.

About Value-Based Care Insights Podcast
Value-Based Care Insights is a podcast that explores how to optimize the performance of programs to meet the demands of an increasing value-based care payment environment. Hosted by Daniel J. Marino and Shaillee Chopra, the VBCI podcast highlights recognized experts in the field and within Lumina Health Partners.