Episode Overview:
In this episode of Value-Based Care Insights by Lumina Health Partners, hosts Daniel J. Marino and Shaillee J. Chopra provide commentary on Dr. George Mayzell and Doug McKinley's webinar about physician burnout and dissatisfaction. The episode dives into pre-COVID issues, post-COVID realities, and how to create a culture of wellness.
Co-hosts:


Daniel J. Marino, Managing Partner, Lumina Health Partners


Shaillee Chopra, Principal, Lumina Health Partners


Guests:

Dr. George Mayzell, MD, MBA, FACHE, Managing Principal, Lumina Health Partners


Dr. Doug McKinley, Psy.D, MCC
President and CEO, DLM Pathways
Episode Discussion Areas:
1. The culture of well-being and dissatisfaction
Make the connections between burnout, the current environment and leadership
Fee-for-service model didn't work very well in this crisis
Physician compensation model needs to change
2. Pre-COVID issues contributing to physician burnout and dissatisfaction
Emotional exhaustion
Loneliness and isolation
Cynicism
Depersonalization
3. Post-COVID realities – physicians still have to focus on the issues from before
Added on a number of new challenges that physicians have to cope with
Adopting telehealth and new technologies to connect with patients
Unintended consequences of COVID-19
4. How to create a culture of wellness
The future of healthcare is going to be dependent on clinical leadership
Movement to a payment model that is patient-focused
Interventions need to be developed and evaulated
Operational efficiencies with workflows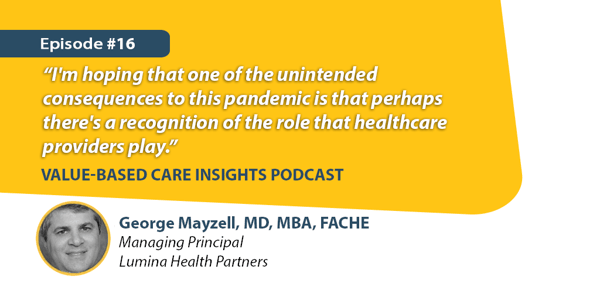 10 Key Takeaways:
Survival Tactics for Physician Leaders
Providers will be moving to new payment models.


The fee-for-service model hasn't served us well during this crisis. Despite the ERs being busy with patients with COVID symptoms, every other healthcare setting has been very quiet. As a result, the current economic model isn't working and is causing hospitals and medical groups significant financial stress.
Work-life balance was a problem before, but it's worse now.


Those in the ER are stressed and are working endless hours. Yet the rest of the medical community isn't working enough due to offices being closed and appointments being cancelled. Providers are overwhelmed by decreased work and compensation, increased family safety concerns, and navigating new telehealth systems.
We can expect to see big changes in the employment model.


Because many physician compensation models are based on work RVUs (which works great during busy times but not so well when patients aren't coming in), many physicians took huge salary decreases during the pandemic.
There are some unexpected positive consequences of the pandemic, too.


Because the importance of healthcare professionals has been thrown into such stark relief, everybody's feeling a bit more pride in what they do and what they're able to accomplish. That may have positive effects on the professionalism and how these roles are viewed.
The post-COVID landscape will probably be very different.


Some of the stressors that were critical before the pandemic will only accelerate. While more than 50% of physicians felt some burnout pre-COVID, they're likely to experience increased emotional exhaustion, loneliness, and cynicism. This may cause providers to take stock of their decisions and re-evaluate things in their life.
Depersonalization has become an increasingly big problem with the patient-provider relationship.


Migrating to electronic health records (EHR) and integrating technology started the trend of depersonalization, and that's accelerating with telehealth in our post-COVID reality. Physicians are struggling to adapt to that personalization.
Burnout can be very expensive to a practice.


Replacing a physician can cost thousands of dollars, depending on the specialty. And physician retention is an indicator of success.
There are several important reasons for burnout.


Some of it is work overload, but some is a frustration by providers that they're doing things they don't feel bring direct value to patients (like spending hours entering and fixing EHRs). And while this was an issue before, it's only increased in the COVID world.
How can we reduce burnout?


We have to ensure providers take care of themselves first — and that might be more sleep or taking a walk or stepping away from the office for a half-hour. Providers should also ensure they're getting their information from a trusted source and that they're staying connected with peers.
What does the path toward wellness look like, and how can physician leaders create that culture of wellness?


Being aware of the stressors and the nonessential distractions in your life can go a long way toward managing dissatisfactions within a practice. We need to think about a culture of wellness and health — not healthcare — and create an infrastructure that supports this culture, local leadership, and resources.
Resources mentioned
About Value-Based Care Insights Podcast
Value-Based Care Insights is a podcast that explores how to optimize the performance of programs to meet the demands of an increasing value-based care payment environment. Hosted by Daniel J. Marino and Shaillee Chopra, the VBCI podcast highlights recognized experts in the field and within Lumina Health Partners.