Episode Overview:
Independent physicians are at a crossroads: With all the changes and pressures that have been leveled at them over the past year, how can they sustain their practices and retain their independence moving forward?
In this episode, Daniel J. Marino talks with Ericka Adler, a regulatory and transactional attorney who works with thousands of independent physicians and physician practices.
Together, they discuss the multitude of options for physicians to explore, each providing varying levels of financial stability and practice independence.
To implement the ideal arrangement, physicians must take a clear-eyed view of their goals and individual circumstances and open their thinking to new contract and compensation models and even to realigning the structure of their practice.
Host:


Daniel J. Marino, Managing Partner, Lumina Health Partners


Guest:


Ericka L. Adler, JD, LLM, Shareholder, Roetzel & Andress, Practice Group Leader, Health Care
Episode Discussion Areas:
1. What issues do independent physicians struggle with?
Some have always struggled due to business issues like inefficiencies or a lack of marketing.
The rapid changes in practice structuring due to COVID have left many independent physicians unsure which path forward is the best one.
There are multiple options available, making it daunting to choose a solution.
2. Supergroups can be a viable solution for many.
With supergroups, the practice itself runs in much the same way, but it allows physicians to pool resources and expenses.
There must be diversified revenue, clear governance, and operational support.
The larger supergroups get, the more decision-makers there are, so clear communication and strategy is key to ensuring the practice isn't led down a road the physician didn't originally anticipate.
3. Taking employment is also a viable option.
Hospitals, payers, and private equity firms are all interested in acquiring small independent practices.
Even if the practice isn't financially sustainable, independent physicians must remember that their medical records and existing assets have considerable value.
When considering compensation, look beyond the money. Many independent physicians in the latter half of their careers should consider quality of life and how much control they have over their scheduling and workload.
4. Independent physicians must be open to different models.
Many physicians are entrepreneurial and passionate about care, but they shouldn't be afraid to ask for support or guidance.
It's important to understand who potential partners are, understand whether those partners are trustworthy, and make sure everything is in writing.
The key is for physicians to be true to themselves, their personalities, and their needs. They must figure out what they want their ideal practice to look like and then ensure that's in the contract.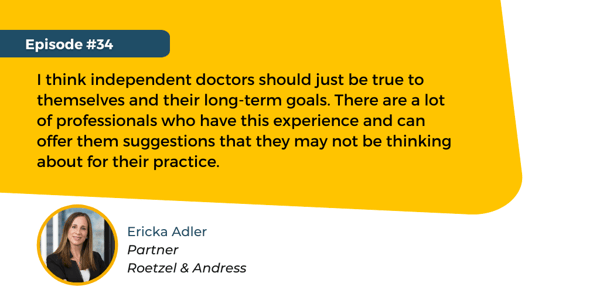 7 Key Takeaways: A Look at Physician Contracts and Compensation
It's important to understand why a physician practice is struggling.


Financial pressures, burnout, telehealth considerations, and changing patient needs are causing some physicians to explore new opportunities. COVID, low patient volume, and inefficiencies are other areas of concern.

There's a solution for independent physicians.


Some are bringing in mid-levels to expand hours and see more patients, while others are offering new services and new technology. Still others are merging, selling, or being acquired by an equity group. In all cases, they need support, an understanding of business best practices from a legal perspective, and a realization of what their personal goals are.

Supergroup models can let physicians stay independent.


Many benefits come from bringing independent doctors together, creating either groups built around a single specialty or independent provider networks. Compensation methodologies and decision-making are largely unchanged, but providers can be part of something bigger.

Supergroup changes happen behind the scenes.


While they're single legal entities, each can have their own name, and there are rules about compensation distribution. Coming together often gives providers the opportunity to use ancillaries.

Success requires adding to and diversifying revenue streams.


Supergroups provide an opportunity to include additional revenue streams, reduce costs, and provide a great level of support to the independent providers. But first, work out the details surrounding governance, funds flow, and operational support.

Independent physicians might consider entering into employment models.


There's no reason for a physician to not make a deal for what they've acquired, and even a failing practice is worth something. But make sure potential partners are a good fit. Define their "why," and be clear on the next phase of their career.

There are great opportunities out there for independent physicians.


They can stay independent and increase efficiencies, or they can consider other unique ideas and concepts, like selling or entering into employment. It's important to evaluate the options to address financial pressures and realign the practice's direction.
About Value-Based Care Insights Podcast
Value-Based Care Insights is a podcast that explores how to optimize the performance of programs to meet the demands of an increasing value-based care payment environment. Hosted by Daniel J. Marino, the VBCI podcast highlights recognized experts in the field and within Lumina Health Partners.