Episode Overview:
Around the country, providers are frustrated by the challenges that accompany working through the negotiations and financial reimbursement that come from work with payers. As a result, many providers are considering alternative arrangements such as provider sponsored health plans and direct-to-employer contracts. But developing and moving forward with a new payer strategy requires a long-term commitment and a solid plan — and that's where provider-sponsored health plan strategies come in.
Today's provider-sponsored health plan strategies are much different from those in the early 2000s. Now, we're seeing hospitals working with successful networks that as focused on quality performance outcomes, reducing costs, connect with patients and employers, and decreasing e employer premiums through coordinated health system and employer collaborative efforts. In this episode, host Daniel J. Marino and Clifford Frank, a national expert in managed care contracting and payer strategy, discuss the challenges and opportunities surrounding provider-sponsored health plans.
Host:


Daniel J. Marino, Managing Partner, Lumina Health Partners

Guest:


Clifford Frank, Principal, Lumina Health Partners
Episode Discussion Areas:
1. How is the payer strategy provider sponsored health plan approach different now compared to the 2000s?
2. What have successful organizations done to implement provider sponsored health plan?
3. What outcomes does a success health plan provide for an organization?
4. What's the criteria for success?
How do you change the existing mindset?
What's your purpose?
5. How are health systems and providers using provider-sponsored health plans to enhance to better connect with patient and employers to reduce costs and enhance quality outcomes?
6. How has clinical integration reduced the cost of care and position provider-sponsored health plans for success?
How effective are health systems negotiating with payers?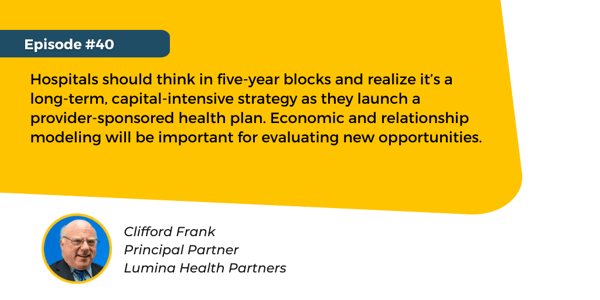 9 Key Takeaways: Best Practices to Operationalize Provider-Sponsored Health Plans
Why are organizations moving forward with provider-sponsored health plans?
It's a lot easier to start a health plan now than it was 20 or 30 years ago. The data-handling process is better, the actuarial functions are much more precise, and the technology around early detection/early warning for claimants who may be headed for trouble is much improved leading to lower risks for providers.
Clinically integrated networks that are incorporated into a progressive health plan's operations allow tremendous cost savings opportunity.
These networks initially manage the low-hanging fruit (e.g., chronic diseases). But as they identify different risk cohorts, operational integration and care coordination offers the opportunity to manage costs, provide stronger patient outcomes, and provide overall benefits direct to patients in the network.
It's the rising risk, not the high-cost patients, that matter.
As providers identify the high risk and rising risk patients, interventions will be based on managing the care of these patients with direct interventions versus managing the utilization of these patient. Improving the patient high conditions is what will provide long-term reductions of cost.
What risks must hospitals consider when moving forward with provider-sponsored health plan strategies?
Hospitals success with moving forward with a provider-sponsored health plan is dependent on their own market share. Hospitals who are second or third in their market cannibalize against themselves unless they are able to create a market differentiation. Also, hospitals have to keep their current payer relationships in mind as they consider launching their provider-sponsored health plan.
How should hospitals proceed?
As hospitals consider moving forward with a provider-sponsored health plan, they need to take into consideration their comprehensive payer strategy. These considerations would include relationship with both payers and employers, Medicare Advantage penetration within their market and ability to continue to reduce the "cost of care".

How deals are structured is important.
If the deal is structured around a fee-for-service reimbursement, there's going to be a significant economic impact to the hospital. If providers can move forward with incorporate a value-based component within the pricing, it provides an opportunity to align both the hospital and employer's incentives around cost and patient outcomes.
Medicare Advantage (MA) is a good place to start.
As hospital consider launching their provider-sponsored health plan, beginning with Medicare Advantage could be a good place to start. Reimbursement is established based on Medicare rates and depending on the health system provider network, it can be leveraged to manage costs and pricing.

How can hospitals outline a strategy?
Hospitals should think in five-year blocks and realize it's a long-term, capital-intensive strategy as they launch a provider-sponsored health plan. Economic and relationship modeling will be important for evaluating new opportunities as well as understanding the payer penetration within their communities.

How can CFOs fund the capital outlay and position for financial success?
Provider organization have to consider this as a long-term invest to attract lives, grow market share and manage overall costs. There are many models that can be considered to both build the plan infrastructure and launch products. The key is to focus to focus on the right level of planning in order to ensure the best opportunity for success.
About Value-Based Care Insights Podcast
Value-Based Care Insights is a podcast that explores how to optimize the performance of programs to meet the demands of an increasing value-based care payment environment. Hosted by Daniel J. Marino and Shaillee Juneja, the VBCI podcast highlights recognized experts in the field and within Lumina Health Partners.