Episode Overview:
COVID-19 exposed the limitations of fee-for-service reimbursement. Last year was really hard on hospitals, and 2020 was particularly hard on independent providers and the surgeons who financially rely on their procedure volume. In this episode, Daniel J. Marino and Shaillee Juneja introduce Michael Sisti and Lisa Stockdale of Silver Cross Hospital to share strategies that can help independent hospitals and community providers find success in value-based care in 2021 and beyond.
Co-hosts:


Daniel J. Marino, Managing Partner, Lumina Health Partners


Shaillee Juneja, Principal, Lumina Health Partners

Guests:


Michael Sisti, Administrative Director of Managed Care, Silver Cross Hospital


Lisa Stockdale, Director of Managed Care, Silver Cross Hospital
Episode Discussion Areas:
1. Crawl, walk, run approach (Michael).
What does a VBC strategy look like? You have to look internally to determine what to leverage.
How to find the strategy? Where does it start?
2. Programs and practices at Silver Cross (Lisa).
Now that contracts are in place, how do we optimize them?
You must understand the recipe that works for your organization.
Contracts are as good as your performance.
Care management allows you to keep patients and care in the system.
Goal is to expand outcome improvement across all areas.
Explore technology to solve problems.
3. How are the hospitals and independent providers supported through this strategy (both)?
Value.
Revenue.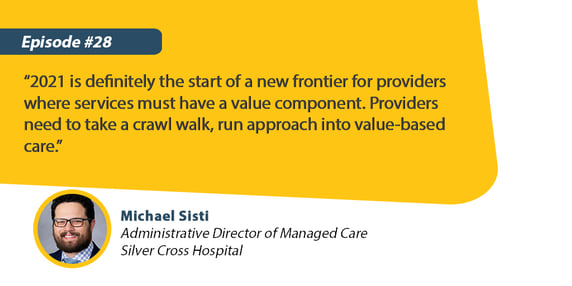 11 Key Takeaways: How Independent Provider Communities Can Find Success in Value-Based Care
Providers must be mindful of fee-for-value.
Fee-for-service contracts are being replaced with fee-for-value or value-based contracts. So now services have a value component behind the quality structure.
Implementing fee-for-value.
Organizations must ensure they have the right infrastructure, analytics, and case management. While it's great to have control on the provider side, value-based care isn't as easy as it looks. It's important to take a crawl-walk-run approach to ensure your organization can handle it.
What should organizations know about getting started in value-based care?
CFOs should know it might hurt at first as they try to find the low-hanging fruit. So starting from a strong margin position and financial structure is critical. Then CFOs, who are progressive, will be more willing to venture into these arrangements.
The shift to value-based care will change the reimbursement structure.
Payers aren't offering the big increases in fee schedules like they were in the past. To see an increase in reimbursement, providers must tie the work to performance based on the Triple Aim and hold people accountable. Independent providers will need to differentiate themselves by showing they have a lower cost structure and higher quality/outcomes.
Independent providers, especially, can't be afraid of value-based care.
These providers must realize they're offering a very viable solution that payers are looking for. They must show the same or better quality as the large groups — and a lower price point.
While fee-for-service isn't going away, there is a major shift coming.
We must start shifting to fee-for-value from contracting, financial, and infrastructure perspectives. Providers can negotiate great contracts, but if they can't execute on them, it's hard to be successful.
Things physicians must do as they move to value-based care.


Understanding the operations of an independent physician practice is key to developing physician engagement strategies. And having a solid foundation of physician-led operating committees can be useful in sharing what works and what doesn't in a medical practice. Providing practices with useful data and analytics will also help them improve.

Create platforms for independent physicians to plug in to.


Care management, data, and analytics tools let physicians help transition patients out of the hospital and get them in for visits to ultimately help them succeed in contracts.

Segment the population for big benefits.
Identifying key cohorts, studying claims activity, and understanding the behaviors of patient populations can clarify which care management programs to focus on to manage the total cost of care and generate financial opportunities for physicians.
The right care management program is critical to contract performance.
Working with business and clinical leadership teams can help organizations blend telephonic case management, manage the post-acute network, and offer digital education platforms. This creates engagement with care managers, prevents low-value care, and delivers primary care services to patients who need it. It's critical to engage patients through the care continuum to keep them in the network.
A move to value-based care is easier when providers know where to focus.
Partnering with key stakeholders, understanding the culture of an organization, and identifying where opportunities exist is a start. At the end of the day, payers are looking for partners to ensure employers, employees, and patients are taken care of in the best possible way.
About Value-Based Care Insights Podcast
Value-Based Care Insights is a podcast that explores how to optimize the performance of programs to meet the demands of an increasing value-based care payment environment. Hosted by Daniel J. Marino and Shaillee Juneja, the VBCI podcast highlights recognized experts in the field and within Lumina Health Partners.