Episode Overview:
COVID-19 brought a pivotal shift to the healthcare environment for organizations. While adjusting to ever-changing industry demands, organizations are finding that integrating value-based care has become more important than ever. In this episode, Dr. George Mayzell breaks down the action steps organizations must take to improve value-based care during the pandemic.
Co-hosts:


Daniel J. Marino, Managing Partner, Lumina Health Partners


Shaillee Chopra, Principal, Lumina Health Partners


Guests:

Dr. George Mayzell, MD, MBA, FACHE, Managing Principal, Lumina Health Partners
Episode Discussion Areas:
1. COVID-19 provides an opportunity and a challenge for healthcare professionals.
Providers weren't prepared from a payer reimbursement or managed care contracting perspective.
When providers shut down many inpatient services, they had to shift some of those services to the outpatient arena. The level of reimbursement was anywhere between 15% and 30%.
Providers have the opportunity to provide services in an outpatient arena at a lower cost than they could from an inpatient perspective. But if they don't negotiate some type of a payment differential, the reimbursement they're going to get from payers is going to be considerably less.
2. How can value-based care be used as an opportunity to address challenges?
If you're able to show that these services can be done in an outpatient arena, your cost of care — your cost to provide that service — is going to be less, yet the outcome is going to be higher.
If you're able to engage in a value-based contract with a payer, you can get reimbursed for the quality of care and the outcome of that patient while sharing in some of the cost reductions that would occur as a means of shifting those services from inpatient to outpatient.
3. Not doing anything is not a good option — healthcare leaders must act fast.
Many providers who never had financial issues or never worried about patients seeing them before now worry about finances. In fact, that's the top issue on a recent survey done with physicians.
The goal is to look at changes that support fee-for-service medicine now and value-based medicine later.
Early innovators often get the best deals. So, you may not want to be the absolute first in line, but you certainly don't want to be the third, fourth, fifth or last.
4. Understanding your metrics will provide essential information to make informed decisions.
Healthcare has done a terrible job of understanding cost. Hospitals understand cost and the aggregate, but they rarely understand the diagnosis and the patient levels.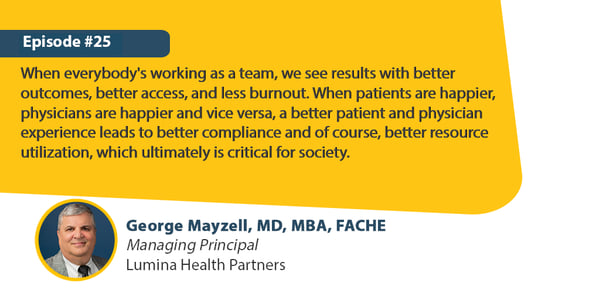 11 Key Takeaways: Bold Action Steps to Improve Value-Based Care During COVID
Healthcare service delivery during a pandemic has highlighted necessary changes to healthcare.
Not only do we see the limitations of fee-for-service reimbursement, but we've also seen an unnecessary shift from the acute arena of a hospital for surgical services to an ambulatory or outpatient arena. It has forced us to use innovative approaches to connect with patients.
Data has become more critical in how we conduct operations, measure outcomes, measure value, and use it as a tool for negotiating contracts.
Data is driving our understanding of what's occurring with these COVID patients. But we're also using that data in care management and within patient engagement, including with telehealth technologies.
We've seen a huge shift toward adopting and implementing healthcare technologies, like telehealth.
This has required changes to care models and adjusting how we collect and measure data. This has also been the most significant shift we've seen with providers and patients, resulting in a tremendous increase in the number of telehealth visits.
Organizations must get prepared for value-based care.
We've reached a tipping point where we have to change — but not too much at once. Organizations should look at the changes that support fee-for-service now and value-based medicine later. That might mean being an early adopter of a value-based approach in order to get the best deals.
Organizations should slowly build infrastructure and capabilities to understand where they are and where they need to go.
Start thinking about what kind of results you're getting for patients and how you can use incentive programs to increase income. Also start creating metrics — like quality and patient experience — and getting doctors used to seeing these metrics. Moving toward team-based care, where everyone is working toward a better care experience and outcome at the right cost of resources —all comes down to understanding your metrics.
Work as a group, using data to improve care and quality outcomes.
Employed and independent physicians can work together to share data, improve care, and ultimately go to the payer and ask for good compensation based on doing good work and getting good outcomes. As a bonus, you can also share some costs inside the network.
Understand who your network is and who your network of providers is.
The fee-for-service systems haven't fared as well during the pandemic. Now is the time to be rewarded for providing good, integrated care.
We must make it easy for physicians and other healthcare workers to provide care to patients and do the right thing.
That means not having a piece of paper and a separate EMR or logging into multiple sites. It should all be integrated into a single flow that supports the clinical visit. Ideally, that's developing and using a tool that efficiently delivers clinical care and information without increasing burnout and decreasing engagement.
Cohesive team structures and processes are more important than ever.
We'll be much more efficient if everyone communicates with each other and the patient and does the right thing for what their role entails. We need to be better at making sure things don't get lost and the transitions of care happen seamlessly.
Nurse practitioners and physician's assistants are valuable resources.
We need to use their skills appropriately — not as an overflow valve. They should be treated as a resource and a provider. These individuals offer a huge opportunity to take advantage of a great team-based care member.
The shift in a healthcare organization's financial situation is impacting their providers' compensation.
Organizations must look at provider compensation strategy through a different lens. They need to shift the models, so providers have skin in the game, always have control over the outcomes, and are recognized for the work they're doing. And that may mean a shift to a compensation model that rewards providers on the value that produces the quality outcomes and other metrics relevant to the value-based environment.
Resources mentioned
About Value-Based Care Insights Podcast
Value-Based Care Insights is a podcast that explores how to optimize the performance of programs to meet the demands of an increasing value-based care payment environment. Hosted by Daniel J. Marino and Shaillee Chopra, the VBCI podcast highlights recognized experts in the field and within Lumina Health Partners.