Episode Overview:
Physician leadership is becoming more important as we start to see organizations transitioning into stronger clinical service models. Hospitals and health systems are developing "centers of excellence," and physicians are emerging as leaders.
Today, physicians are asked to assume leadership roles, but many have not received training for the executive and administrative leadership skills that are required for them — and the organization — to be successful.
In response to what physician leaders around the country are saying, Lumina Health Partners developed the physician-based Lumina Leadership Institute to help provide leadership development.
In this episode, Daniel J. Marino talks to Lucy Zielinski, co-founder of the Lumina Leadership Institute (LLI), as they discuss the future of physician leadership. They also share the insights from a recent webinar titled "2021 Physician Leadership: Key Ingredients to Strategic Success," presented by their colleague, Doug McKinley, Managing Principal and LLI Director, CAPA Pro Member as well as Authorized 5B and Everything DiSC Facilitator.
Host:


Daniel J. Marino, Managing Partner, Lumina Health Partners


Guest:


Lucy Zielinski, Managing Partner, Lumina Health Partners
Episode Discussion Areas:
1. What created the need for the Lumina Leadership Institute?
Physicians are taking on more prominent roles in leadership.
Some are collaborating in dyad and triads with executives to get the job done.
Physicians may not have organizational strategy and business expertise.
Many physicians are exceptionally trained in clinical delivery but are not formally trained in business concepts.
2. Physician leadership is not a one-size-fits-all approach.
Physicians must bring a level of self-awareness to the table.
Physicians of the future will create a paradigm shift in how to work and lead.
3. Emotional intelligence is a big part of physician leadership.
In Doug McKinley's webinar, he referenced Patrick Lencioni as saying that
being humble, smart, and hungry will keep leaders balanced and open to opportunities.
Physicians must be aware of competition and consolidation.
Physicians must align emotional intelligence and business acumen.
4. Physicians speak a different language than do business executives.
Most physicians didn't plan to become an executive or administrative leader.
It's critical that physicians understand that leadership and working on the business is different than working in the business.
Physicians must take the time and learn the skills.
Physicians can take a course or a program or work with a coach or mentor.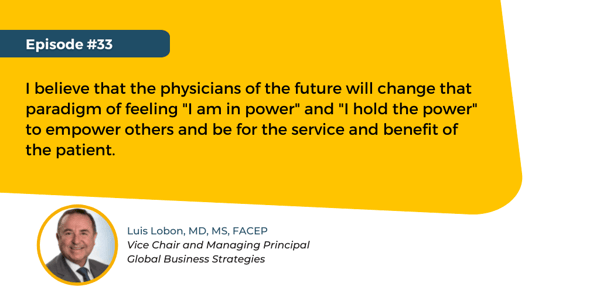 7 Key Takeaways: How to Build Strong Physician Leadership
There are several keys to strategic leadership success.


Physicians must develop their skills and training, learn business delivery, and develop their emotional quotient. Leadership development isn't one-size-fits-all, and physicians must be adaptive in their approach.

Emotional intelligence is critical as new physician leaders develop their leadership styles.


Combining the emotional quotient with the intelligence quotient yields triple the benefit. As physicians move up the ladder, they must develop this emotional quotient.

Mentors can be huge assets to new leaders.


Mentors are an excellent way for new and younger leaders to learn. Employees should be open to becoming friends in collegial ways to help become strong physician leaders.

Care is moving toward being patient- and health-centric.


Health care isn't just about conditions and diseases; it's about taking care of a patient's health. Physicians in leadership roles are the ones to make this happen, because they understand all sides of the equation.

What makes a physician leader successful?




As per Lencioni, successful leadership requires being humble, being hungry, relating to others effectively, and having a smart approach . Physicians must take the opportunity to bridge the gap by learning the language of business executives. They must also stay vigilant, be open to new ideas and innovation, and be clever.

What can the next generation of physician leaders do?


Take different paths to get to leadership roles and take the time and teach themselves leadership skills through a program or a mentor. They must never cease to be curious and never forget who they serve. They'll take better care of patients if they understand health care, delivery, and where it's going.

The Lumina Leadership Institute provides support for new physician leaders.


Physicians improve on the people skills that teach them to speak the same language, drive toward the same goals, and be successful.
Resources mentioned:
About Value-Based Care Insights Podcast
Value-Based Care Insights is a podcast that explores how to optimize the performance of programs to meet the demands of an increasing value-based care payment environment. Hosted by Daniel J. Marino, the VBCI podcast highlights recognized experts in the field and within Lumina Health Partners.