Episode Overview:
Lumina Health Partners Principal Daniel J. Marino welcomes Dr. Alvia Siddiqi, the vice president of population health for Advocate Aurora Health in Chicago, to discuss how provider incentives and leadership governance opportunities can engage – and retain – employed physicians.
The conversation is part of Lumina Health Partners' ongoing study of how to align provider incentives and build a practice model that ensures sustainability and success under value-based care.
Host:


Daniel J. Marino, Managing Partner, Lumina Health Partners


Guest:
Dr. Alvia Siddiqi, MD, FAAP, Vice President Population Health, Advocate Aurora Health
Episode Discussion Areas:
1. Governance structure of medical groups
What is the right structure to position medical groups to improve their margins and achieve success under value-based care?
Committee structures need to align with VBC

Dashboard reports that align compensation and are governed by physician peers
How can physicians participate in governance in a way that allows them to be more accountable and self-governing?
Advocate Care Index commitment

Participation in medical group management committees
2. Physician compensation
How does the physician compensation model need to evolve, allowing for a balance between FFS and FFV?
Shift from productivity-based models, such as work RVUs (relative value units) to an outcome or performance-based compensation model
Variable compensation models

Incentives that include quality outcomes, coding accuracy with Hierarchical Condition Category (HCC) and aligned quality measures with

value-based

care contracts
3. Care model redesign
How can care models support efficiency in care delivery and reduction in clinical variation?
Primary care focus with Annual Wellness Visits (AWVs) and chronic disease management

Care management and care gap analytics and reports
4. Innovative patient access models to drive revenue and volume while meeting the needs of patients
What are some of the elements of innovative patient access models that medical groups should consider, so as to improve their financial performance and align with VBC?
Expansion of hours into evenings and weekends

Increasing the use of advanced practice providers

Partnerships with other primary/urgent care groups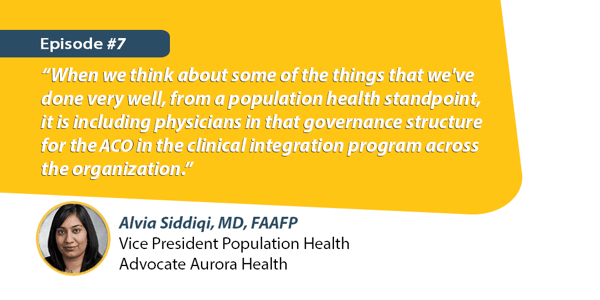 9 Key Takeaways from Engaging Employed Physicians in Value-Based Care
1. Physician participation in governance is extremely beneficial.
Independent physicians or physicians in employed practices absorbed by larger systems may feel a loss of autonomy. Long-term employed physicians in large systems may feel they can't effect changes in practice strategy or how they are compensated.
Being part of governance committees and structures helps the former feel they've regained some of their autonomy, and the latter feel they have a voice in their organization.
2. Physicians struggle with participation because they are on the fee-for-service treadmill.
Organizations need to adequately compensate physicians for taking time out from their practice to participate in governance committees.
3. Some medical groups offer quality incentives that make up part of the physicians' variable compensation.
This model allows

organizations to tie incentives

to work they would like to see physicians and practices doing on a day-to-day basis. Work can include promoting team-based care, leadership, teaching and mentoring and governance.
4. Transparency and data sharing make a big difference.
Physicians want to be A-plus performers. Sharing data has spurred meaningful conversations about the kind of changes that improve coordination of care and patient outcomes.
5. Have the right metrics and analytics to provide data to practices and physicians.
Utilizing metrics in three key areas — in-patient utilization, access (includes use of emergency departments and specialized nursing facilities) and post-acute network — can help drive better outcomes for care coordination and overall patient care.
6. Incorporating data into workflows helps physicians understand how they can impact their performance and patient placement at the point of care.
Data helps establish the right level of incentive and helps ensure that physicians are

measured on things

they can control. Physicians then can influence practice and care team workflows
7. Expanding hours of access is a hot topic among medical groups.
Increasing weekend hours, improving evening availability and providing virtual visits are all top of mind.
8. Practices should consider group visits to reduce burden on physicians and improve time and efficiency.
Dietitians, pharmacists, nutritionists or nurses engage patients during that group visit, with groups seeing from five to 15 patients over two to three hours. For organizations with at least equal revenue based on fee-for-service, the group approach engages more physicians and patients, leading to more value-based care outcomes.
9. There's a lot of value in Patient-Centered Medical Home (PCMH) standards.
Employed medical group practices who operate as PCMHs do are able to reevaluate and reassess whether key standards are being adopted wholeheartedly and the impact on the overall health of the patient population.
About Value-Based Care Insights Podcast
Value-Based Care Insights is a podcast that explores how to optimize the performance of programs to meet the demands of an increasing value-based care payment environment. Hosted by Dan Marino and Shaillee Chopra, the VBCI podcast highlights recognized experts in the field and within Lumina Health Partners.