Episode Overview:
Surgeries have been shown to be one of the most profitable service lines, however, this might not hold true in today's health care environment, where value-based payment is becoming the norm. As hospitals face numerous challenges — including reduced cash flow and increased competition — efficient surgical service lines are imperative for them to remain financially healthy. In this episode of Value-Based Care Insights, Daniel J. Marino and Jeff Peters discuss how to create efficiencies to help organizations win with surgical service lines.
Host:


Daniel J. Marino, Managing Partner, Lumina Health Partners


Guest:


Jeff Peters, CEO, Surgical Directions
Episode Discussion Areas:
1. What strategies improve surgical service lines?
Having a governance structure that promotes collaboration and unity amount surgeons, anesthesiologists, and hospital leadership in decisions around operational perioperative service line efficiency.
Determining where there's a need and demand for perioperative capacity and staff, then adjusting resources to meet that demand.
Analyzing heat maps at demand for surgical time by time-per-day and days-per-week allow organizations to allocate both capacity and staff.
2. What is the significance of ambulatory service initiatives?
It's important to point out that ambulatory surgery strategies are successful and sustainable. The ambulatory surgery center is a component of an ambulatory campus, where there are physician offices, diagnostics and rehab.
It is obvious that ambulatory physicians are your primary source of referrals. Keeping an eye on your referrals channel is key. You may have more than 50% of all surgeons or all physicians who aren't employed by a physician group; instead, they're employed by a hospital health system or an insurance company.
It's very market-specific as to whether you just have to develop an ambulatory surgery strategy or you can do that strategy as part of the joint venture.
Health care, for the most part, is now an ambulatory business. You want to create campuses closer to where your patients live and where they can conveniently access those resources.
3. Are you seeing physicians and hospitals or maybe even private equity coming together to build these outpatient campuses?
Systems need to think through what's the best way to enter a market. In some cases, it's developing it.
But in other markets — where there are established surgery centers that were joint ventures, have been in existence for a while, and have many surgeons maturing in their practice — there isn't as much opportunity to sell in and cash out.
If a system wants to get more involved in an ambulatory market and there's an existing surgery center, investing in that surgery center and acquiring the physicians' practices and their ownership in it is highly attractive.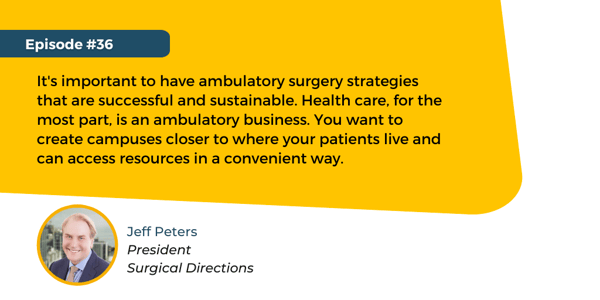 6 Key Takeaways: How to Create Efficiencies with Surgical Services
How can health care organizations increase the efficiencies around surgical service lines?
They can operate their perioperative service line more efficiently, like adjusting resources to meet demand, better allocating capacity and staff, and focusing on operational efficiencies.
What is the role of the surgical services executive committee?
When the surgical services executive committee manages the entire episode of care, it can reduce costs by 10%-15%. When they act as a board of directors to drive perioperative services, they can also drive revenue and cost, improve efficiency and manage the entire experience.
Providers must optimize their patient clinically.
Optimization occurs by looking at clear pathways, managing expectations, and preparing caretakers for postsurgical care. When you increase volumes through the efficiencies, you can maximize revenue potential.
Organizations are changing their ambulatory strategy.
Payers are pushing back on procedures being done in hospitals versus surgery centers. They know costs are 40% less in off-site facilities. There's higher patient satisfaction and surgeon satisfaction when procedures are performed in an ambulatory surgery setting. Many large health systems are doubling down on their ambulatory surgery centers because they see the opportunities.
Health care is an ambulatory business.
You want to create campuses near where your patients live so they can conveniently access resources. They must also be service-line focused and help the patient as a whole by thoroughly addressing their problems. By thinking longitudinally, you're also supporting the value-based care strategy.
What's the best way to enter a market?
In some cases, it's developing it. In other markets, where there are established surgery centers, there isn't much opportunity to cash out, so acquiring the physician practices and their ownership is an option. Venture capital firms that are getting into the surgical space are also open to joint ventures with hospitals and health systems.
About Value-Based Care Insights Podcast
Value-Based Care Insights is a podcast that explores how to optimize the performance of programs to meet the demands of an increasing value-based care payment environment. Hosted by Dan Marino, the VBCI podcast highlights recognized experts in the field and within Lumina Health Partners.