Episode Description:
In this episode of Value-Based Care Insights, hosts Daniel J. Marino and Shaillee Chopra dive into how organizations can build analytics infrastructure to support value-based care.
Episode Overview:
Co-hosts:


Daniel J. Marino, Managing Partner, Lumina Health Partners


Shaillee Chopra, Principal, Lumina Health Partners
Lumina Health Partners Daniel J. Marino and Shaillee Chopra discuss executives' common questions about building a data analytics structure for their organization. Over the course of the podcast, Daniel and Shaillee cover the problems organizations face, how to create an "analytics ecosystem," what prevailing myths exist around analytics, and how health organizations can build a platform, set priorities and position data as a strategic asset.
 The conversation is part of Lumina Health Partners' ongoing study of how to align incentives and build a practice model that ensures sustainability and success under value-based care.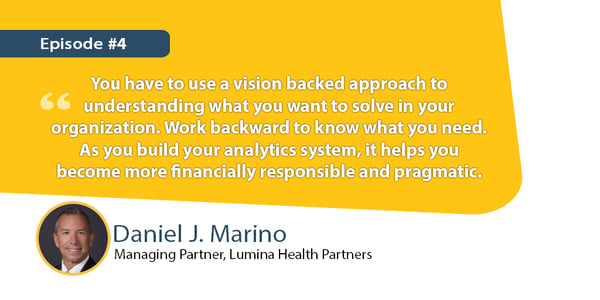 Episode Discussion Areas:
1. Key problems organizations are facing
Ability to aggregate clinical and claims data across settings
Building the information-management platform from data to information to knowledge

Obtaining consistent data formats or "usable" data to drive performance improvement within value-based contracts
2. Key considerations for building your analytics strategy for a risk-ready organization
Providers'/patients' engagements across the network
Analytics ecosystem – building a layered approach
Implementing a vision-based strategy
3. Musts and Myths
What is a pragmatic way to build the platform?

How to set priorities
Evolving data into a strategic asset
7 Key Takeaways: Building an Analytics Infrastructure for Value-Based Care
1. Healthcare executives' top questions about analytics infrastructure center on putting data to use.
How do I begin in building an infrastructure?
How do I organize my data and turn it into insights that drive actions?
How do I bridge technology and operations?
2. Many executives have started to invest in an analytics infrastructure.
But they need help bringing together technology, data and operations to drive action.
3. Physicians struggle with finding the right level of reporting.
They want reporting that is meaningful and translates into the workflow.
4. Most analytic platforms provide leakage analysis reports.
These reports analyze where patients are opting to go out of network.
5. Executives need leakage reports to understand the ROI of decisions.
This data can influence decisions such as whether to bring in more services or more specialists.
6. Executives worry about finding the right pace of change.
Many are asking, how quickly do we move from fee for service into fee for value.
7. Organizations must become risk-ready in a value-based care world.
They need to gather data that drives strategic development, adapt clinical workflows that answer questions posed by that data and helps the CFO understand the financial implications of those adaptations as the organization moves into value-based care.
About Value-Based Care Insights Podcast
Value-Based Care Insights is a podcast that explores how to optimize the performance of programs to meet the demands of an increasing value-based care payment environment. Hosted by Dan Marino and Shaillee Chopra, the VBCI podcast highlights recognized experts in the field and within Lumina Health Partners.