Episode Overview:
As healthcare moves into the latter part of 2020, many hospitals find themselves in a difficult financial position. Revenues are still down, however, volumes have increased (but are still below pre-COVID levels), and physicians are concerned with delivering care in a COVID-19 environment. The panel will discuss three important subtopics: revenue capture initiatives, use of data and analytics to evaluate the impact of COVID-19, and physician engagement and satisfaction.
Co-hosts:


Daniel J. Marino, Managing Partner, Lumina Health Partners


Shaillee Chopra, Principal, Lumina Health Partners


Guests:

Kathy Najarian, MHA, Principal, Lumina Health Partners

Rick Howard, Principal, Lumina Health Partners

Dr. George Mayzell, MD, MBA, FACHE, Managing Principal, Lumina Health Partners
Episode Discussion Areas:
1. Building on revenue capture initiatives.
How are commercial payers responding to hospitals' financial challenges?
What can hospitals do now to recapture revenue?
What is a good place to start?
2. Data is critical in understanding the clinical, operational, and financial impacts of COVID.
What should hospitals review concerning efficiencies and costs?
What are the key information "drivers" to identify the potential surge in COVID cases versus managing clinical activities?
Are there specific indicators or trends healthcare leaders should review regularly?
3. Physician anxiety and concerns are very high.
What are physicians feeling as they balance care between COVID and non-COVID patients?
Are specialists (particularly surgeons) starting to see volumes approach pre-COVID levels?
What do physicians need to do to ensure a level of confidence with patients?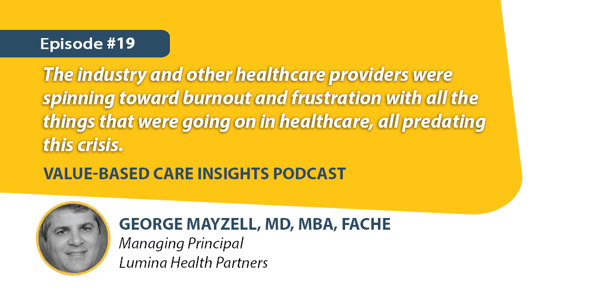 9 Key Takeaways: How to Assess Revenue Recovery and Patient Care During COVID-19
Hospitals are looking for ways to close the revenue gap.

Hospitals are looking at creative options to help patients feel comfortable and safe, allowing them to confidently return to acute and ambulatory healthcare facilities. This may include expanding off-site clinics and mobile sites or en reaching out to payer partners. These solutions will start the movement to value-based care and may increase the protective revenue available to an organization.

Revenue needs to flow with the shift in "site of service".

Today, dollars tend to decrease when moving from an acute setting to an ambulatory or office setting. But now, payers are willing to move those dollars as providers also move procedures to the appropriate care setting. It will be up to providers, however, to gather the pricing data in order to use that as leverage through payer discussions.

Organizations are struggling with the cost to deliver care.

To understand why costs are higher than they should be, organizations must understand their cost structure and any related problems. There may also be resource or staffing issues or concerns — especially post-COVID-19. It's important to perform patient stratification properly with the appropriate venues and levels of care.

Here's how an organization can move forward with value-based care.

Providers might start by looking at the COVID population as one to bring in care coordination. Another area to investigate is telehealth, which can link to population health and care management. Not only do these opportunities open the door for value-based care, but they can also fuel prospective payments to the provider of care.

Physicians are a critical part of helping hospitals recover revenue.

Pre-COVID, healthcare providers were suffering from burnout and frustration — and that has just amplified during this pandemic. And stressed-out, frustrated physicians often have lower productivity, higher turnover and increased mistakes — which compromises the margin and mission of the healthcare organization . Organizations need to address this human element and the newly added COVID stressor.

Organizations should consider measuring the emotional impact of COVID-19.

If organizations can anticipate potential issues, adjust, and provide emotional support to providers before they spin out of control, then they should. Good elements to measure include burnout, engagement, and physician turnover. These data points can be added to the organization's dashboard to identify a baseline and future change management.

What other things should hospitals look at to ease burnout among staff?

Leaders should consider looking at the patterns involving workflows, no-shows and cancelled appointments, and even staffing models. Being able to come up with wellness indicators like these can help identify providers' levels of burnout or dissatisfaction and be better managed.

What can leaders do to improve provider satisfaction?

Talking to peers and adjusting workflow are two of the biggest activities leaders can make to increase provider satisfaction. Recognizing the sacrifices providers have made can not only decrease burnout but also improve engagement. Even showing providers the payment models can end up being rewarding, especially if there are incentives based on quality.

What can organizations do now to start implementing change?
By taking a holistic approach — bringing joy back to medicine, working with payers, managing costs to improve revenue, and understanding the impact of loss — leaders can drive change. Leaning on other organizations and focusing on these critical driving factors will result in significant improvement in the post-COVID environment.
Resources Mentioned
About Value-Based Care Insights Podcast
Value-Based Care Insights is a podcast that explores how to optimize the performance of programs to meet the demands of an increasing value-based care payment environment. Hosted by Daniel J. Marino and Shaillee Chopra, the VBCI podcast highlights recognized experts in the field and within Lumina Health Partners.