Episode Overview:
In 2020, healthcare providers navigated, adapted to, and survived challenges brought on by COVID-19. The challenge affected not only Lumina Health Partners, but also the industry as a whole. In this episode, hosts Daniel J. Marino and Shaillee Juneja are joined by Managing Partner Lucy Zielinski to discuss new trends that emerged in 2020 and their implications for 2021.
Co-hosts:


Daniel J. Marino, Managing Partner, Lumina Health Partners


Shaillee Juneja, Principal, Lumina Health Partners

Guest:


Lucy Zielinski, Managing Partner, Lumina Health Partners
Episode Discussion Areas:
1. Cost management
Clinical variation reduction
2. Data and analytics
Artificial intelligence
Digital innovation
Interoperability
3. Continued advancement of VBC and positioning for risk
Direct-to-employer contracts
Quality Payment Programs including APMs and MIPs
Clinically Integrated Networks (CINs)
4. Medical groups management
Protecting revenue, revenue cycle management, and CMS PFS Final Rule updates
Telehealth
Provider compensation models
5. Physician and executive leadership development
Alignment with organizational strategy and objectives
Dyad leadership structures
Consolidation (M&As)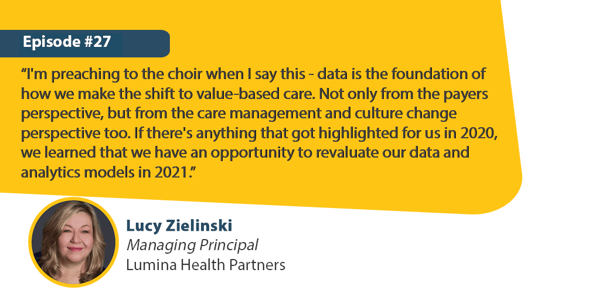 11 Key Takeaways: 2021 Healthcare Trends You Can't Ignore
Hospitals, providers, and healthcare overall must pivot and readjust.
Healthcare must connect with patients in new ways, manage the vaccine rollout, and

re-engage and re-establish trust with patients. Hospitals are focusing on repositioning themselves financially and getting back to a place of financial stability. Creating a shared learning environment — with a focus on education, leadership development, and training — will help organizations drive success.

Post-COVID, there will be a strong, continued focus on value-based care.
COVID has shown healthcare organizations many of the limitations surrounding fee-for-service. Organizations have the opportunity now to focus on providing value and establishing reimbursement around that value.
Cost-reduction measures will improve margins and offer new revenue opportunities.
Some therapies, mental health services, and the ambulatory environment have adopted telehealth services and changed care delivery. Clinical variation reduction can reduce costs without cutting services.
Organizations might need to consider compensation realignment.
Organizations might need to incentivize physicians differently in a fee-for-value world. As organizations move into value-based care, a percentage of compensation is now being tied to quality rather than volume. During the Biden administration, this focus on quality and cost is expected to increase, along with continued pressure on commercial payers to incorporate value-based initiates into contracts.
Providers should examine business processes during the shift to value-based care.
Reviewing the ways organizations work with payers, providers, and patients will help create efficiencies, reduce costs, improve revenue opportunities, and create financial sustainability. One challenge with having a healthy revenue cycle is the ability to code appropriately — especially for the newer services, like telehealth and remote patient monitoring, as well as diagnosis coding (and HCC capture) to identify patient risk.
A shift to a 360-degree perspective will occur in 2021.
Providers should re-evaluate their data and analytic models, including the assumptions made about patients, care pathways, care models, and supply chain management. Through this productivity view that understands all the attributes of patients, cost management, and productivity management, organizations can better predict return on investment and drive financial and operating success.
One key to surviving and thriving in 2021 is adaptability.
That includes considering a more agile methodology to data analytics, which is quite different from the traditional approach. Digital innovation lets providers bring in new data types — like that from at-home remote monitoring services — that help them deliver better care.
Profitability will be a key need in 2021.
Organizations must maintain and increase their market share, adapt to customer needs, and create new care pathways. Thinking

about what problems they want to solve, taking a pragmatic approach to creating the data, and driving actionable analytics will help drive results.

Providers will want to improve the employed physician group model.
Employed physician groups that are losing money aren't doing so because they're unproductive or not working hard. Instead, it's because of how the financial structure is set up and how it's integrated with payer contracts and desired outcomes. By creating actionable information that helps providers increase efficiency and better integrate the medical group with the health system, groups will see real improvements.
Clinical document improvement is critical in a value-based world.
Ensuring physicians gather the right data at the patient level and document it is currently an under-focused and underrepresented area. Without this documentation, providers can't deliver continuity of care.

How physicians diagnose patients and how they assign diagnoses is vitally important — not just diagnosing, HCCs, and reimbursement but to the physician's reputation and performance on publicly available websites such as Care Compare.

Organizations should support physician resiliency and leadership development.
COVID, added stressors, and leadership requirements are taxing physicians. Involving them in the organization's strategy and aligning their objectives with that of the organization helps move them forward. Organizations must figure out how to adjust to the industry's challenges and face them head-on. Physician involvement is key.
Resources mentioned
Lumina Leadership Institute
About Value-Based Care Insights Podcast
Value-Based Care Insights is a podcast that explores how to optimize the performance of programs to meet the demands of an increasing value-based care payment environment. Hosted by Daniel J. Marino and Shaillee Juneja, the VBCI podcast highlights recognized experts in the field and within Lumina Health Partners.