Hospitals and health systems across the country are reexamining their clinical service line strategies and operations in response to the shift from volume to value. In addition to population-based and episode-based payment reforms initiated by public and private payers, providers are challenged by mergers and acquisitions, clinical integration, consumerism and price transparency. Strengthening clinical service line strategies and capabilities are critical approaches to addressing these many challenges.

This post is the second in a four-part series where we introduce the pillars of success for clinical service lines: Governance and Leadership, Clinical Integration, Clinical Transformation, and Analytics and Innovation.
The Four Pillars of Clinical Service Line Success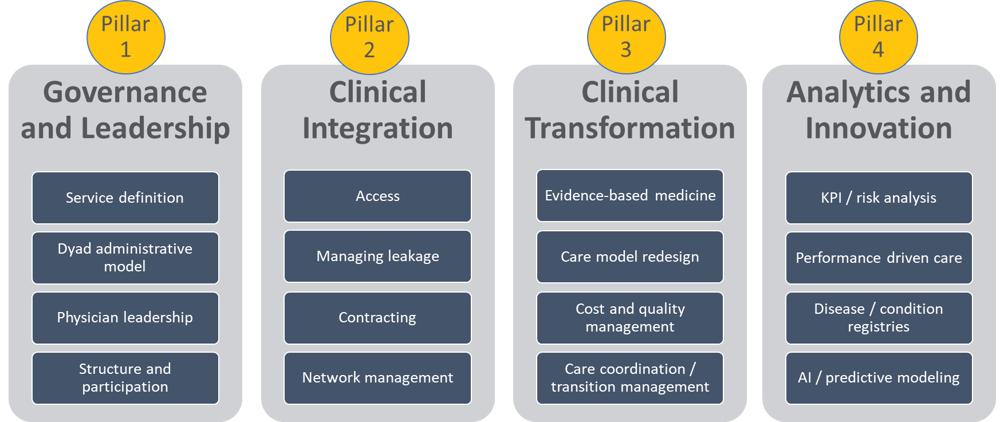 In this post, we address pillar two: Clinical Integration.
Access
Patient access is often the most difficult but also the most important driver in a successful service line. This includes all touch points where patients enter the health care system, from call centers, to check-in processes, to pre-admission for surgery. Ease of access and coordination of comprehensive patient services supports early diagnosis and intervention while reducing unnecessary or duplicative services.
Many strategies exist to improve access and may be specific to a given service line. For example, an orthopedic service line needs to consider transportation, durable medical equipment, and post-acute services. A cardiac service line would need to identify urgent appointment access, pharmacy, and potential home health devices.
Managing Leakage
Developing systems to manage leakage or outmigration is one of the most important efforts in a service line.
Keeping patients in an organized clinical care system reduces cost and improves quality and outcome. Many studies have shown that most patient errors occur during transitions of care, which is exacerbated by patients receiving complex medical care from multiple systems with no coordination.
For example, in a well-managed service line in oncology, all clinical participants, surgery, medical oncology, radiation oncology, social work, and other support services can work together to develop and execute a treatment plan reducing stress on the patient and family members. Moreover, this kind of carefully coordinated care results in improved quality and compliance from patients.
Coordinated care will also significantly reduce the total cost in an episode of care. In this same oncology example, a patient will not need to repeat images or lab work if all the results are communicated across the treatment team. This high-level of communication is more easily accomplished when all providers participating in a service line are committed to the goals of improved quality and reduced costs.
Contracting
Joint contracting via a clinical integration network (CIN) or other similar clinical structures can be a key factor to drive success in a service line strategy. This approach can support the goals of creating deeper coordination across a specialty, stronger focus on key services, and encouraging better outcomes and utilization.
Payers are interested in supporting programs with such a strategy by either creating steerage to a CIN provider and/or entering into bundle payment arrangements that reward successful efforts with a percentage of shared savings. All these dynamics toward shared goals will foster a stronger relationship amongst providers and health system administration.
An institution without a clinical integration organization may also contract directly with payers in specialty bundle payments or risk-sharing arrangements in a service line. For example, many institutions are contracting with CMS for the Oncology Care Model (OCM) or one of the Bundle Payment for Care Improvement (BPCI) models. Many payers are also offering similar arrangements for commercial and Medicare Advantage populations.
Service line organizations can add a great deal of value to the management of these types of arrangements through improving access and reducing leakage as well as setting, measuring and communicating cost and quality metrics.
Network Management
Network management is a relatively new concept in service line management. Networks have traditionally been the territory of health plans and more recently CINs. However, with mergers and acquisitions between health systems, ambulatory care systems and post-acute provider, and with the addition of value-based contracts, network management is an essential ingredient in successful service line management.
Organized specialty service lines can influence network management by providing upstream support to primary care providers and other in-network referral partners and by creating access and communication processes that enhance patient and clinician experience. Specialty service lines can also apply quality and utilization data to evaluate post-acute providers and determine those that should be given preferred status for referrals. Through utilizing CIN resources for patient navigation and care management, service line patients can be followed and managed within the network's resources of providers and facilities.
Three key strategies add to the effectiveness of a successful network for service line care delivery.
First, choose the best participating providers. Providers must be actively engaged in and willing to transform their accessibility and clinical practice based on data and evidence. They must abide to the agreed upon guidelines and probably most importantly want to share success across all other participants.
Second, develop data that is accepted as accurate and is actionable. The network leaders need to be able to communicate the agreed-upon key performance indicators in a clear and concise manner and help providers at every level of the organization develop action plans to improve where required.
Finally, everyone in the network should have input into the contracting and compensation or incentive distribution strategy. In order to keep a network of disparate providers (physicians and institutions) engaged, everyone must believe that the benefits of the service line – be that additional volume or compensation from payer contracts – will be fairly counted and distributed.
Transparency and active communication are essential in all areas of network management.
In summary, clinical service lines prioritize clinical integration as the second pillar of success in value-based contracting. This includes service access, leakage, contracting and network management. When managed effectively, focus on these areas will improve patient experience, improve quality metrics and add value to contracts.
The third blog in this four-part series will discuss pillar three: Clinical Transformation and will include a discussion of the benefits of adherence to evidence-based medicine, employment of care model redesign, cost and quality management and care coordination. Each of these clinical process areas can help a service line effectively improve patient and physician experience and increase overall value to the organization.